Backyard Beekeeping with U3A in Mallacoota
A great article from Glinda Major for the Mallacoota U3A, The Mallacoota Mouth 1631.
On 4th October, Gerard came to talk to members and visitors about his established bee keeping venture, both an adventure and a source of enjoyment.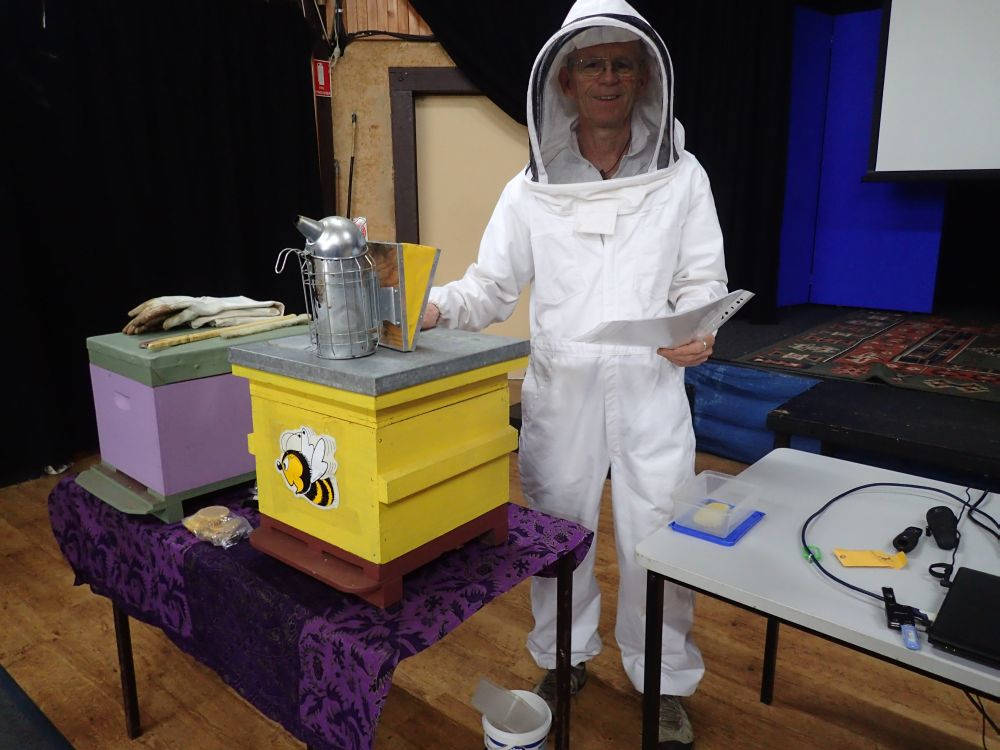 Gerard came dressed for the part in his bee suit complete with visor. He brought examples of the frames which allow the bees to settle to produce their golden nectar. He prefers a simple one without wire hangers. His hives are nestled in his garden sufficiently out of the way to be free of common garden sprays. Gerard discovered that if he moved his hives even a small distance in his garden, the bees inbuilt GPS system failed them.
Gerard has noticed that bees love lavender, bottle brush, banksias, magnolia, borage and thyme. There are also plenty of flowering native bushes and trees in the garden such as melaleucas and stringy barks.
Bees operate in a complex social system. At any one time only one queen is tolerated. If two queens emerge in the one hive, only one lives to tell the tale. The drones live and die for the queen.
Bees communicate with each other by means of a directional dance which indicates the direction, source of the food. Each colony has its own distinct odour for the purpose of warding off intruders.
Gerard explained that raw honey is extracted and strained at room temperature. Honeycomb assures the user of absolute purity. Raw honey contains particles of wax, pollen and nutrients transmitting the health giving aspects of honey.
Read full article in "The Mallacoota Mouth #1631.
---
Would you like to know more about my bees, healing with honeycomb, organic gardening or superfoods, bushwalking or simply wish to join me on a motorcycle trail around Mallacoota, in Victoria or New South Wales? Then please send me an email (I speak English and German). I invite you to follow my daily adventures on my Wolfraider and Mallacoota Honey Flickr pages.